***
WINNER: drummmmmrolllllll..... Miss Hannah! Congrats Miss Hannah, you'll be receiving your new picture frame within two weeks! Thank you for the suggestions, you appear to know more than you think you do about feeding people!
***
We're out of food.
Not in the actual, "Cockroaches would starve here" way, but in the "I can't
think of anything to cook anymore" sort of way.
I hate that feeling.
I'm on track to come in at/under the new grocery budget, which is exciting
to me. I wrote the cheesecake that I sent to the fire station off as a
"gift", so I actually probably have about $20 less than what I'm pretending
I do.
ASIDE: Did you know that cheesecakes cost that much? Ridiculous. And here

I always thought I had cheap tastes.
Anyhow, there's so much room left in the budget because I haven't gone
grocery shopping for about a week and a half. And I just don't want to. I
can't seem to get up the get up and go to go and shop. (If that sentence
made any sense to you, perhaps you've been here too long.) I'm not
inspired, mostly because I just haven't taken the time to get that way.
Did you know that inspiration often takes effort? That's the way I've
found it to be for me, at least, and I've heard from some other people that
they often have to grease the wheels before they have an epiphany.
Usually, my inspiration for dinners comes from (1) sale notices in the
newspaper (or the online version) or (2) perusing online food blogs/recipe
sites. But I haven't really done any of that.
And I'm feeling tired. It's a 5-day week at work, and you know how those
effect me.
So instead of making myself do any of that ugly thinking work, I'm hoping
you will come to my aid. Suggest some quick, easy-to-moderate, cheap meals
for me. I need to make up my grocery list, and before I do that, I need to
know what I'm shopping for. If it's an online recipe, please include the
link!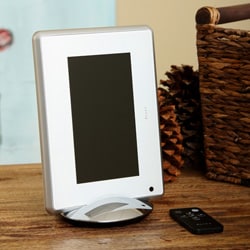 As a special treat, I'll randomly choose one dinner suggestion to receive a
digital picture frame. The two have nothing to do with each other; I just
have one to give away. I guess you could load a single picture of your
recipe into the frame and use it to cook by. But I'd suggest something
pretty or loved, and lots of pictures so you can watch them all change.
My step-dad got one a few Christmases back, pre-loaded with pictures of all
of his (then 4, now soon-to-be 7) grandbabies. He watched it for 3 days
straight, not even minding when the pictures ran out and started cycling
through again. I'm telling you, these things are highly addictive.
So put on your thinking caps, and give it to me baby! Give me the best
dinner suggestion ever.
Remember, though, no fish or beans. I won't pick
you if you put up a dish with fish or beans.
Resisting the leanest of proteins,