Yesterday.
Hot-lanta.
Wasn't so "hot". More "wet".
Wet-lanta.
Doesn't have the same feel, but I might try & throw it into casual conversation, see how it flies.
I'm still processing everything that happened yesterday at the race that wasn't. And by "race that wasn't," I mean that we got rain delayed and then sat for 2 1/2 hours while they dried 7/8th of the track, and then it rained again for 5 minutes and it was cancelled. Technically, this means that I've still never been to a Nascar race.
I suddenly feel better :)
Confession: I did have fun. Take me as I am, I cannot help myself.
I have pictures. Oh, do I have pictures. But I don't have my camera currently, so you're going to have to live in a state of suspended satisfaction until I can get home and put them up here for you. Trust me, if anything was ever worth waiting for, these pictures are it. Let me see if I can sum it up in a few words for you.
Handsome. Wal*Mart Jeans. Scissors. Redneck.
I feel like that induces the appropriate level of anticipation.
Until I can get to those pictures (and possibly scar some of you for life), I will leave you with these pretty ones that I snatched off of google. After the race was cancelled, as we walked through a sea of humanity back to our car, I caught sight of a few of these babies going up in the air.
How something so delicate and beautiful can exist at the same time as bodies with numbers spray-painted on them and beer guts so large as to be previously believed impossible, I can not understand.
The mind cannot comprehend such a juxtaposition - hence the fact that I'm still processing.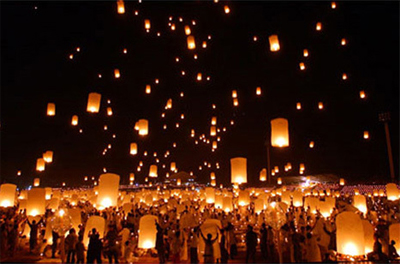 It didn't look anything like this, but I would like to state, for the record, that if I had to get married all over again (as in, re-do the first time, not have a 2nd wedding), I would have totally finished off the night with these. I love them. Perhaps I can invent some other life-event that is special enough to warrant a celebration of this magnitude. 26th birthday, perhaps?? I don't think that's it. For now, I'll just lament the fact that stinkin'
Tangled
didn't come out in time for me to get the idea.
Blaming Disney for my dissatisfaction,
TFW