Things are reaching a breaking point, over here. I'm seriously wondering whose idea this all was. I mean, for a girl who has vowed not to eat sweets, to be the official over-seer of Cake Week 2012... I'd like to punch that person right in the mouth.
Please excuse me while I go try and punch myself in the mouth.
...
Okay, I'm back. And in addition to doing nothing productive, that shot to the kisser seems to have loosened some screws. As a result, today's contestants have nothing in common with each other. I hope that's okay. I hope you can bear the randomness. I mean, if you can't, just go ahead and leave, move on. And believe me, it's not like I'm going to make up fake names and enter to win 27 times today, and then get today's prize and eat it all by myself. No, it's nothing like that. Trust me. Just move along. Nothing to see here...
Still there?
Then I guess I'd better share with you the wonderfully fantastic sponsor we've got today, seeing as how I promised you all that I'd do so!
Bill and his lovely wife are originally from the South, which definitely makes me love their confections even more! I'm a firm believer that everything thing in the South is sweeter (the tea, the pies, the girls, you know!), and so their toffee must be AH-mazing. See for yourself!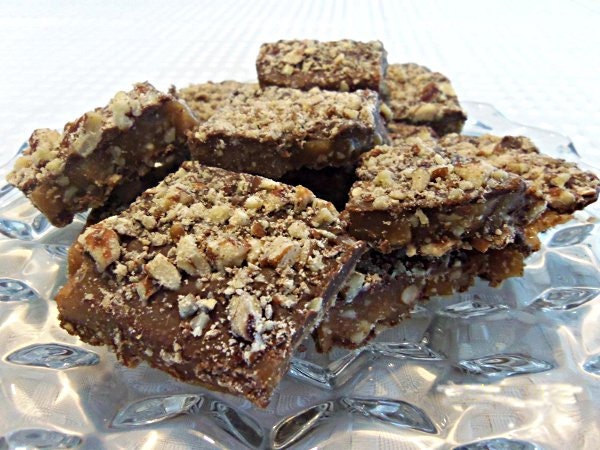 Are you drooling?
Because I'm drooling.
And you know how I don't like to drool alone.
Here's how your Toffee Dream can come true:
Leave a comment on here telling me the cake you wish to vote for, and your name - One Vote
Leave a comment on here telling me your dream toffee package from Annie Bellum's Toffee Shop - One Vote
Comment on FB about today's giveaway, and include the link to Annie Bellum's Toffee Shop in your comment - One Vote (leave a comment telling me you did it!)
Pin your favorite item from Annie Bellum's Toffee Shop and tell me (in a comment) that you did it! - One Vote
Tweet about this giveaway, using #CakeWeek2012 and include a link to Annie Bellum's Toffe Shop - One Vote (leave a comment telling me you did it!) [Example: "Awesome #CakeWeek2012 voting going on today at http://theefirewife.blogspot.com/2012/04/cake-week-voting-day-3-smattering.html! I might win some toffee from http://www.etsy.com/shop/AnnieBellumsToffee ! #Giveaway"]
And now, without futher ado or personal injury, I have for you some lovely Cake Contestants!
Entry 4: Reesees Peanut Butter Cup Cake (reader recipe)
And that's our smattering of cake. Which is quite different from a smashing of cake. Although I do think these cakes are smashing (Please excuse the UK-talk. I watched Season 1 of Downton Abby this weekend. Yes, all of it. And I'm sad season 2 isn't on Netflix yet.)
Off to continue my cake-less existence,
TFW