Dress: I got it at Ross.
I love it.
Sunglasses: Handsome found at the bottom of the lake.
Yay for scuba divers!
I love dresses. As a child, I wasn't a big fan. Tomboy didn't really even begin to describe how much not-a-girly-girl I was. And I'm still not super girly. I don't do drama or reality TV, I can't be bothered to do anything with my hair other than a pony tail, I forget to
brush my teeth
wear makeup, and I've been seen in public in some atrocious outfits. However, I do love a good dress. And because of that,
TJMaxx
and
Ross
love me. Seriously, they have some super cute dresses, $35 and less. No lie.
The thing I love about a dress is that you don't have to match. I'm a bad matcher (see above: not very good with fashion). I won't buy a dress that requires a belt with it, because that takes extra thought. And I don't like to get something that I have to wear a cardigan over or anything like that; again, bad with matching. But, if I get a nice stand-alone dress, and I can wear black shoes with it (Currently my only color of heels. Again, not a good girly-girl), then I can fake being all fashionista-ish. Of course those who know me don't believe it, and often ask who dressed me, but I still take that as a win.
I've got a conference coming up in a few weeks, and the worst part for me is the first morning. You've (usually) gotten in late, and now you have to be up at 8 AM, regardless of the number of time zones you've crossed, and you've got to be all glad-handing and whatnot. More to the point, you've got to do it while looking good. So I have a secret weapon: My bouncy dress. Its professional looking, modest enough, and (here's the big seller) polyester knit. Which means it doesn't need ironed. In fact, I'm pretty sure an iron would melt it, not that I've ever done anything like that... I think every traveling gal should have a business-y dress that doesn't need ironed. It makes the 3 hour time difference and 6 AM wake-up call after a red-eye flight that much easier to bear.
ASIDE: I'm also very bad at telling the difference between business casual, casual, business, and formal attire. So I'm not saying its a sure thing, but I'm thinking that you could have a dress like that, and throw it on at a moments notice if your Mister suggests a spur-of-the-moment date. Trust me, the less time he's waiting to eat, the more likely he'll be to suggest it again!
So that's my tip, and its also probably as close as I'll ever come to offering fashion advice. It works so well for me, though, that I just had to share. I'm assuming quite a few of you already knew about this, as I'm late to most fashion games, but in case there's someone else out there who didn't know, do yourself a favor next time: pack a does-not-need-to-be-ironed outfit for the first morning. You'll thank me, crusty eyes and all.
Linking up with both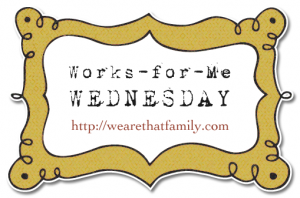 The fashionista herself,
TFW